The question "Do Mexicans Speak Spanish?" may surprise some people. It perhaps seems obvious that of course Mexicans do speak Spanish, in fact it is the largest country in the word of Spanish-speakers. Yet other people still ask that question. So maybe we shouldn't rush to the obvious answer so quickly.
Why then do some people ask that question? Well, I can think of several reasonable explanations:
1. They saw or overheard two native Spanish speakers from different countries, one Mexican, confused while speaking to each other.
2. They studied Spanish in school for years and years, then arrived to Mexico only to find that the words they learned are completely different from what Mexicans use.
3. Their Hispanic friends joke about how Mexican Spanish sounds so different from everywhere else.
4. They are fluent enough to identify a Mexican accent whenever someone speaks.
These are all possible, even likely, situations when the question "Do Mexicans Speak Spanish?" could pop into someone's head. Keeping that in mind, all of a sudden the question seems more reasonable. And yet, I return to "Of course Mexicans do Speak Spanish." BUT, the Spanish they speak is clearly different in several ways from the Spanish spoken in most other countries.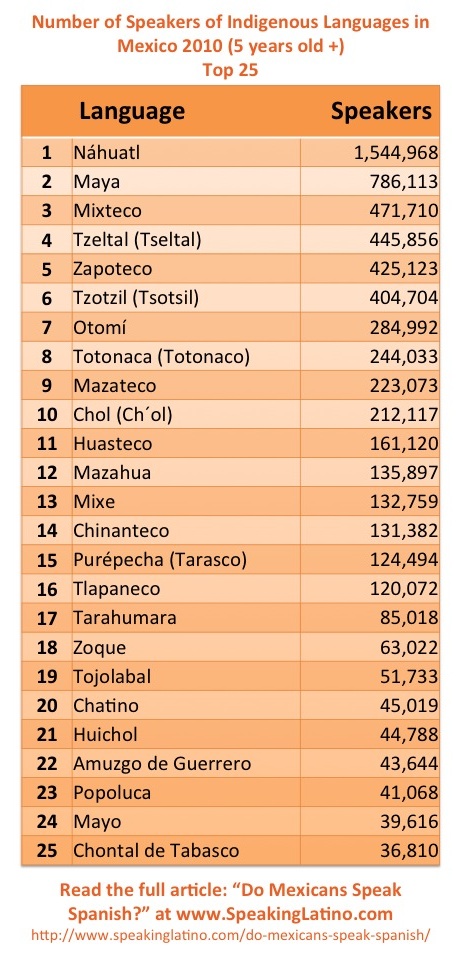 Here are some areas where outsiders (even native Spanish speakers) will find Mexican Spanish to be unique and even not something they understand at first:
1. The Mexican Spanish vocabulary can be unique:
• See the books El chingonario, ¡Ah, qué chida es la CH!, Quick Guide to Mexican Spanish and Cabo Bob's Mexican Slang 101 for examples.
• Here's a list of Mexican Spanish slang words we put together.
• For you non-believers, listen to this song and then tell me there's not a unique vocabulary in Mexico: Chilanga Banda
2. The unique Mexican pronunciation is almost unmistakable for someone fluent in Spanish. Take a look at this video to hear examples of Mexican Spanish accents.
3. According to 2012 statistics, 6.6% of the Mexican population speaks an indigenous language. There are 65 live indigenous languages, Náhuatl being the most spoken. See the table on the right.
Now that you've browsed through those books (remember to take advantage of the Amazon Look Inside function, when available) and heard those videos, I'll ask again…
Do Mexicans Speak Spanish?
And be sure to check out these other articles about How to Speak Spanish.