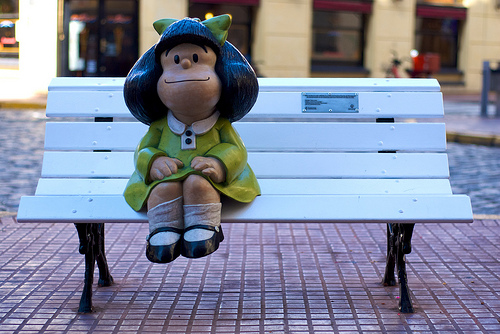 The following article is part of the Spanish Friday initiative that promotes blogging in Spanish.
---
El siguiente artículo es parte de la iniciativa Spanish Friday que promueve el blogueo en español.
Artículos en la serie Mafalda:
• Parte 1 | Breve historia de Mafalda y Quino
• Parte 2 | La voz de Mafalda
• Parte 3 | ¿Qué representan los personajes de Mafalda?
Desde que en septiembre de 1964 se publicó la primera tira de Mafalda, la década de los sesenta cuenta con una gran represéntame. Siendo sólo unos niños, Mafalda y sus amigos supieron cómo hacer reflexionar y reír no sólo a Argentina, sino al mundo, en plena época de cambios y avances.
Es en esta década que Joaquín Salvador Lavado, mejor conocido par sus lectores como Quino, escribe esta obra de crítica social. La obra de Quino es muy peculiar, ya que se vale de las tiras cómicas llegando así a todo el público: ricos, pobres o sin educación superior. Las historietas de Mafalda se publicaron en publicaciones Argentinas desde 1964 a 1973.
Breves sobre la historia de Mafalda y Quino
Mafalda no nace por un simple capricho de criticar nuestra sociedad, fue creada para la campaña publicitaria de los electrodomésticos "Mansfield" que nunca salieron al mercado. Luego la tira aparece en la revista Leoplón que dirigía su amigo, el humorista, Miguel Brascó. Luego llega a la revista Primera Plana donde hizo su debut oficialmente el 29 de septiembre de 1964. El verdadero lanzamiento de Mafalda fue en El Mundo, que siendo ésta publicación un diaria le permitía dibujar tiras sobre los problemas actuales valiéndose de los juegos de los juegos de los niños y problemas en las familias. Mafalda debuta por primera vez sola y no es hasta 1965 que el diario pide a Quino añadir más personajes. Es aquí que aparecen Felipe, Manolito y Susanita.
Debido al cierre repentino de El Mundo Mafalda tiene que empacar y se muda a Siete Días Ilustrados. El 25 de junio de 1973 se despide Mafalda formalmente. La obra de Quino con Mafalda continúa esporádicamente usando su personaje en campañas publicitarias para la UNICEF, urgiendo a la vacunación contra la poliomielitis y el Hospital del Niño de Buenos Aires.
Nuestra niñita al comenzar las tiras, todavía no va a la escuela, pero demuestra una gran picardía al criticar a su mamá por no haber terminado la Facultad (Universidad) y presenta una gran preocupación por los problemas que aquejan a su Argentina como la fuga de cerebros. Quino magistralmente nos lleva una fuertísima critica del diario vivir, pues al ser Mafalda una niña con ilusiones nuevas se presta para que todos los días quiera hacer algo nuevo. La niña y sus amigos quieren ser presidentes, ser el gobierno, ir a la luna, ser el Llanero Solitario, cambiar el mundo, jugar con muñecas, enamorarse, tener hijos, ser médicos, en fin supo Quino como aprovechar bien la tele de la década de los sesenta.
El próximo viernes en Spanish Friday continuaré con la segunda parte de esta serie presentaré seis asuntos político-sociales en la voz de Mafalda.
Check out these other articles on Spanish Books.
Featured photo credit: Mafalda in San Telmo by blmurch, on Flickr