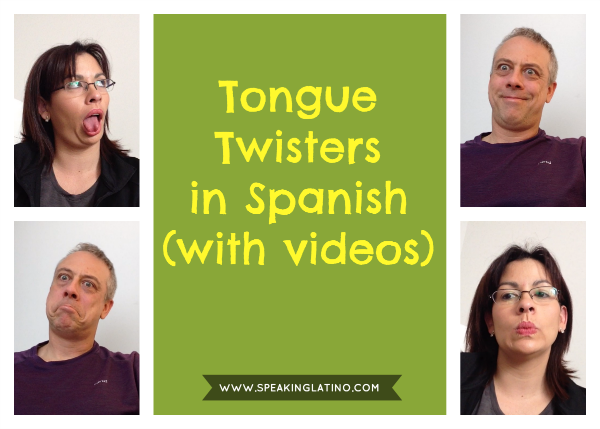 Tongue twisters or trabalenguas are phrases that use repetitive syllable sounds that make them difficult to pronounce but when practiced can improve your Spanish pronunciation.
Because of the rhymes, they are often used with children as a fun exercise to practice Spanish pronunciation and diction when learning the language at an early age. The objective of a tongue twister is to pronounce it clearly at a normal speed (or increasing the speed of speech) without any mistakes.
In a previous Speaking Latino article early this year, Spanish teacher and blogger Rease Kirchner, wrote about the good practice of using children materials when adults are learning a new language. Add the following trabalenguas to the list of things you can do to improve your Spanish. Experts agree that tongue twisters:
1. Stimulate memory, focus and concentration
2. Improve your listening perception and comprehension
3. Increase your speech speed
4. Help you speak with precision and no mistakes
5. Entertain both children and adults while learning
Trabalenguas are part of the oral literature and popular culture, that is why there are some many variations of the same ones. Some are considered classics that are known across countries. Others are particular to a specific country.
Tongue Twisters to Roll your R's
One of the biggest challenges for English speakers (and oriental cultures) learning Spanish pronunciation is pronouncing the R's. Here are some versions of the tongue twister Tres tristres tigres (Three sad tigers) that I guarantee will help you to roll your R's in Spanish.
1. TRES TRISTES TIGRES
Version 1:
Tres tristes tigres tragaban trigo en un trigal en tres tristes trastos.
En tres tristes trastos tragaban trigo tres tristes tigres.
Version 2:
Tres tristes tigres triscaban trigo en un trigal.
Un tigre, dos tigres, tres tigres trigaban en un trigal.
¿Qué tigre trigaba más?
Todos trigaban igual.
Version 3:
En tres tristes trastos de trigo,
tres tristes tigres comían trigo.
Comían trigo, tres tristes tigres,
en tres tristes trastos de trigo.
---
If you though that you had enough R's practicing with the Tres tristes tigres tongue twister, here are three versions of another classic: Erre con erre.
>>Print out tongue-twisters now<<
2. ERRE CON ERRE
Version 1:
Erre con erre cigarro,
erre con erre barril.
Rápido corren los carros,
cargados de azúcar del ferrocarril.
Version 2:
Erre con erre cigarro,
erre con erre barril.
Rápido corren los carros,
detrás del ferrocarril.
Version 3:
Erre con erre guitarra,
erre con erre barril.
Mira que rápido ruedan,
las ruedas del ferrocarril.
---
Tongue Twisters with Play on words
In the following two tongue twisters, a play on words is used and the sound of ch is dominant. The first one, Pancha plancha, is one of the easiest trabalenguas that exists. Pancha is the nickname for Francisca and plancha means an iron. The second one, Me han dicho que has dicho un dicho, plays with the verb say and the noun saying, as in a common phrase, which in Spanish is the exactly the same word: dicho.
Warm up your tongue with Pancha plancha to get through the second one!
3. PANCHA PLANCHA
Pancha plancha con cuatro planchas.
¿Con cuántas planchas Pancha plancha?
---
4. ME HAN DICHO QUE HAS DICHO UN DICHO
Version 1:
Me han dicho
que has dicho un dicho,
un dicho que he dicho yo.
Ese dicho que te han dicho
que yo he dicho, no lo he dicho;
y si yo lo hubiera dicho,
estaría muy bien dicho
por haberlo dicho yo.
Version 2:
Me han dicho
que has dicho un dicho,
que han dicho que he dicho yo.
El que lo ha dicho mintió;
y en caso que hubiese dicho ese dicho
que han dicho que he dicho yo,
dicho y redicho quedó,
y estará bien dicho ese dicho,
que han dicho que he dicho yo.
---
A tongue twister for diminutives
I think there is a tongue twister for everything and here is one for diminutives. Pablito is the diminutive for Pablo, and clavito for a construction nail. Calva means bald patch. Don't be fooled by this short one, it is very tricky.
5. PABLITO CLAVÓ UN CLAVITO
Pablito clavó un clavito
en la calva de un calvito.
En la calva de un calvito
un clavito clavó Pablito.
---
Double twist: A tongue twister with an opera twist
This tongue twister is famous because it uses the famous melody of La donna è mobile (Woman is Fickle) from the opera Rigoletto (click here
to listen to a demo of the song and download). In this case all the endings of the nouns and adjectives are substituted with ívida, évido, and ávido changing all the words from llanas to esdrújulas (basically adding more syllables) to perfectly fit the melody. Even though all these words endings are not correct in Spanish; you can understand the real meaning.
6. TONGUE TWISTER DOÑA PANCHÍVIDA
Doña Panchívida
se cortó un dévido
con el cuchívido
del zapatévido.
Y su marívido
se puso brávido
porque el cuchívido
estaba afilávido.
Correct grammar should read:
Doña Pancha
se cortó un dedo
con el cuchillo del zapatero.
Y su marido
se puso bravo
porque el cuchillo
estaba afilado.
---
And now, the most challenging and prolific tongue twister ever: El Cielo Está
In my opinion, the following is the most difficult tongue twister, even for Spanish speakers. This one is challenging because the key word does not exist in Spanish. There are also a lot of variations. You decide which one is the most difficult. Encancaranublado, parangaricutirimicuarizado, engarabintintangulado, encuadriculado, and emborregado are total inventions that in this context mean an overcast sky. The one I learned is the first one.
7. EL CIELO ESTÁ…
Version 1:
El cielo está encancaranublado,
¿Quién lo encancaranublaría?
El que lo encancaranubló,
buen encacaranublador sería.
Version 2:
El cielo esta parangaricutirimicuarizado
¿Quién lo desparangaricutirimicuarizara?
El desparangaricutirimicuarizador que lo desparangaricutirimicuarize,
buen desparangaricutirimicuarizador será.
Version 3:
El cielo está engarabintintangulado
el que lo desengarabintintangulare
buen desengarabintintangulador será.
Version 4:
El cielo está emborregado,
¿quién lo desemborregará?
El desemborregador
que lo desemborregue,
buen desemborregador será.
Version 5:
El cielo está emperejilacristalado,
¿Quién lo desemperejilacristalará?
El desemperejilacristalarador
que lo desemperejilacristalare,
buen desemperejilacristalarador será.
Version 6:
El cielo está enladrillado,
¿Quién lo desenladrillará?
El desenladrillador
que lo desenladrille,
buen desenladrillador será.
Version 7:
El suelo esta encuadriculado.
¿Quién lo desencuadriculará?
El desencuadriculador que lo desencuadriculó,
buen desencuadriculador será.
FREE TONGUE TWISTER PRINTABLES
FREE PRINTABLES AND VIDEOS FOR SPANISH TEACHERS: We put together a free, printable download for Spanish teachers and students alike, that includes different Spanish tongue twisters, suggested in-class activities and a sample worksheet. You will also receive our Spanish tongue twister videos to use in your class.
>>>Grab the free printable here<<<<