1. Lesson Plan – Verbs TENER, COMER, ESTAR and HAY to Talk About Food – Food Vocabulary [MEMBERS] – While reviewing a series of videos, students  take note of the food they see and hear. Then, the verbs tener, comer, estar and hay will be presented or reviewed in this context. Finally, they apply what they have learned in this and in previous lessons to improvise a dialogue in pairs of students.
2. Lesson Plan – Direct Object Pronouns – Food and Recipes Vocabulary [MEMBERS] – First, students will learn the direct object pronouns' forms through a video. Then, they create, in pairs, a cheat sheet that they will present to the class —all the students will choose the best, which will be displayed in the classroom. Finally, they carry out three oral activities in order to practice the direct object forms, beginning with those corresponding to yo, tú, then those corresponding to nosotros/nosotras, ustedes and finally the third-person forms, both in singular and plural. During these activities, vocabulary related to food will be used.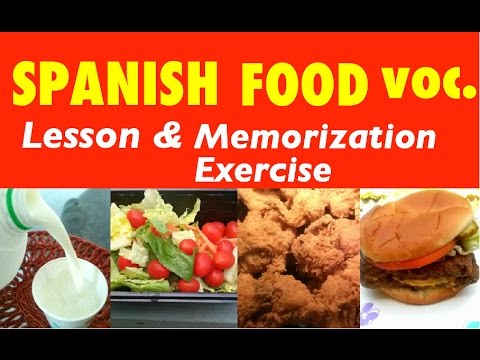 3. Video – Spanish Food Vocabulary: Learn Spanish Food Words – In this video,  students learn 24 basic Spanish words related with food. Students see a picture and the Spanish word for that image along with a phonetic helper that will aid them with the pronunciation.
4. Video – ¡A comer! – Spanish Restaurant Vocabulary – This video helps students learn some Spanish vocabulary to use in a restaurant. They learn how to say 'fork', 'napkin', 'lunch', 'waiter', and many other Spanish words related to food and eating.
5. Presentation – Verbs TENER, COMER, ESTAR and HAY to Talk About Food – La Comida [MEMBERS] – This presentation shows the uses of the verbs tener, comer, estar and, haber in Spanish. Also, it contains some expressions with the verb estar.
6. Presentation – Spanish Vocabulary about Food – This is a simple PowerPoint presentation that helps show the students vocabulary related to fruits, vegetables, and more with their corresponding definite article.
7. Worksheet – Spanish Food Vocabulary – Printable worksheet where students practice by matching the illustration with the word.
8. Spanish Song Chocolate by Jesse & Joy – Food Vocabulary, History of Chocolate Activities [MEMBERS] – Class activities  to practice food, metaphors and learn about the history of chocolate. Clozeline and enrichment videos included.
9. Printable Activities – Spanish Food Vocabulary – A set of 4 downloadable worksheets and activities to practice food vocabulary.