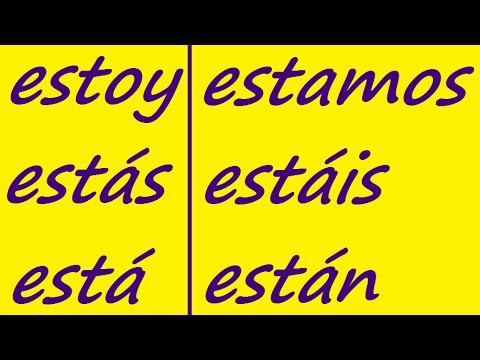 1. Lesson Plan – Verb ESTAR in the Present Indicative to Express Location – Prepositions of Places  [MEMBERS]: Students learn how to conjugate the verb 'estar' in the present indicative using a song video. Then, they practice with a game that introduces the names of continents and countries, using real maps. Finally, they learn prepositions of place, using them to inform other students about the location of countries on a map.
2. Lesson – Use of Estar to Express the Location and the Related Spanish Prepositions – After your students learn the present conjugation of estar, they can also learn the prepositions needed to express locations in Spanish. Incorporate this information into your lesson plans.
3. Lesson – ESTAR and Locations – Donde esta Goofy – This is a fun and versatile activity that introduces and reinforces the use of ESTAR with prepositions of location.
4. Video – Expressions of Location with Verb ESTAR [MEMBERS] – This video follow-up shows expressions that can be used with estar to express location in Spanish. It includes a video transcript, a powerpoint version of the same video, a practice presentation, and a handout.
5. Video – Verb ESTAR Expressing Location: A short video about the uses of the verb ESTAR to express location in Spanish. This video contains the conjugations of the verb and some examples. Also, it shows the structure to make questions and answer about location.
6. Video – How to Use the Verb ESTAR to express location:  This is a quick video lesson on how to use the verb ESTAR to express location. It has a short practice to complete the lesson.
7. Printable Poster – Verb ESTAR in the Present [MEMBERS]: Decorate your classroom with this colorful poster of the verb ESTAR in the present tense. Then, print copies of the black and white handout for your students. The poster and handout include the verb conjugation in singular and plural. Plus examples on when to use the verb ESTAR in Spanish are included.