Speaking Latino followed up with 16 Spanish teacher experts that presented in the Spanish Teacher Success Academy online conference and asked them: What is your number one favorite activity you play in your classroom? They gave us awesome ideas that you can use any time in class.
As an extra bonus, we have unlocked this particular video so you can watch and listen to their full answers.
1. Baile Viernes – Allison Wienhold (Mis Clases Locas)
Allison Wienhold calls her favorite activity to use with her high school students Baile Viernes, which, she explains, "is just starting every Friday with a dance." The uniqueness of the activity makes it "something that my students look forward to," so much so that some students ask to use the activity as a reward.
Use the Speaking Latino's free list of songs to teach Spanish to pick the next big hit for your classes.
---
3. Yo Tengo, Quién Tiene – Emilie del Risco (Island Teacher)
Emilie del Risco's favorite activity is a game she calls Yo Tengo, Quién Tiene. She describes the activity as "a game where cards are spread out amongst all the students in the class" and on each card, students see a question and an answer to a different card's question. The process creates "a circular, looping game" that keeps all students thinking and responding to each other quickly. Emilie likes to create a friendly but competitive atmosphere by "splitting the class into two and having them race against each other," a process that can energize students.
---
4. Volibol – Laurie Clarcq
Laurie Clarcq's favorite classroom activity is volibol, which she uses to review material and to reinforce the idea that a conversation is a back and forth process. The main rules of volibol are easy to understand: "you can't stand, you have to stay seated" and "use a beach ball so no one gets hurt." She arranges two teams of students who are lined up in their seats facing each other; when a student answers a review question correctly, with or without help from others, she allows that student to serve the ball and start a volley. The beach ball can bounce off of any surface in the classroom, which ensures that the activity is fun for all the students involved. 
---
5. Martina Bex's The Unfair Game – Meredith White
Meredith White prefers to use "purposeful games" in her classroom, and Martina Bex's The Unfair Game is her favorite. She only plays this game three or four times a semester, because playing the game means that "pandemonium ensues" because "you can get all the answers right and still lose." She also enjoys introducing her students to betting games that involve a bit of luck as well as knowledge.
---
6. Independent Reading & Free Writes – Jen López 
Jen Lopez favors independent reading and free writes in her Spanish classes. When writing, "students get a prompt and have about seven minutes to write freely." If students prefer, she allows them the option to write about anything going on in their lives if that is more interesting to them than the prompt. 
---
7. One Pin, One Die – Erin Gilreath Carlson
For a long time, Erin Gilreath Carlson doubted the learning potential of using games in her Spanish classroom, but now she sees that they can be both fun and pedagogically useful. She explains that there are a few ways students can play this game called One Pin, One Die; for example, students can engage in conjugation practice or do a series of fill in the blank exercises while another student is trying to roll a six. At several points during the activity, students swap roles and keep track of successful answers so that "there is a competition." 
---
8. Telling Students Stories – Albert Fernández
In his classroom, Albert Fernandez enjoys telling his students stories. He explains that he "like[s] to riff on stuff and be spontaneous" while following TPRS strategies. This fun and collaborative approach to teaching Spanish allows the story he is telling to "evolve into whatever the class wants it to be" as the students suggest different story ideas and make recommendations to him regarding the direction in which the story's characters and plot lines go. 
---
9. The Number Game, casino-style – Kristin Montgomery
In Kristin Montgomery's class, her favorite activity is a casino-style numbers game. To play, she asks students to "make a ladder with ten spaces" to begin. Using "a random number generator" that throws out a number from one to one hundred, Kristin asks the students to students put the number in one of the spaces on their ladder, as each number comes up. Students are not allowed to erase a number once it is down, so the challenge is to determine how high or how low to place the numbers on the ladder as they emerge from the generator. 
---
10. Ben Slavic's Word Chunk Activity – Jeremy Jordan (Señor Jordan)
This activity is perfect for Jeremy Jordan's TPRS lessons, especially when he wants to see if students are learning Spanish words in and out of context. While engaging with the word chunk activity, Jeremy playfully repurposes some of the language he has been using in the lesson into "nonsensical phrases." For example, while using language involving body parts, he might say "the hand sleeps on the head" or "two red feet walk with the purple belly button." His students will use these phrases as part of their speaking practice, which Jeremy then rewards with a different kind of game. 
---
11. SSR (Sustained Silent Reading) – Michaela McCaughey
Sustained Silent Reading is how Michaela McCaughey starts most of her class meetings. Though her students know to expect SSR almost every day, the amount of time students spend reading often varies from day-to-day. When all of her students are reading silently, "it feels like a magical moment" in Michaela's classroom.
---
12. Flipgrid – Jodi Stokdyk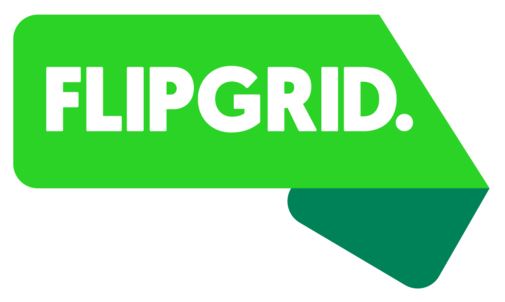 Jodi Stokdyk enjoys doing activities involving Flipgird with her students, especially "when it's to do with their comprehension of a story." Her students "get really excited when they realize they can retell a huge chunk of [a story] back to me" using the Flipgrid interface. As an added bonus, the 'save video' function means that their work on the Flipgrid website can be saved and reviewed, and even emailed to their parents. 
---
13. Write and Discuss – Tina Hargaden 
Tina Hargaden's favorite thing to do with her students is a literacy-building activity called Write and Discuss. In this activity, students share the responsibility of writing an entire paragraph in the target language with the teacher. To start, teachers can begin a discussion with the students, reviewing what has been done during the day so that it can be written down by the teacher. To summarize, "the teacher is transcribing what the students are saying and so you're co-creating" a paragraph. 
She also enjoys a workshop team game that requires cooperation; working together as a team means that this game is great for community-building. On Fridays, she gives students vocabulary in chunks, "review[ing] or re-us[ing] sentences that have come up in whatever we did that week," and she uses a point system to keep track of student participation. This activity gives everyone 'a sense of closure to the week.'
---
14. Pásame el bolo – Sam Finneseth
In her Spanish classroom, Sam Finneseth loves to use games with both heritage learners and L2 learners. Her favorite activity is a game she learned from Noah Geisel called Pásame la botella, which involves students passing a water bottle behind their backs, but she has customized the game for her classroom by using miniature bowling pins with her students instead of a bottle, and she calls her version 'Pásame el bolo.' Sam's heritage learners, in particular, love the game because "they can go as fast as possible." 
---
15. Any Speaking Activity! – Bethanie Drew
Bethanie Drew also likes games that give students a chance to practice speaking. In her classroom, rather than focusing on one or two specific activities, she prefers to use "a rotating 'cast of characters'" on a regular basis. 
---
16. Corre en círculos – Ashley Mikkelsen (Srta. Spanish)
Ashley go-to activity is Corre en círculos that literally means "running in circles". "I post questions on the wall and each student answers the question. And then they have to run around the room and find the answer and that answer leads them to another question," she explained. This activity allows the student to self-check what they learned and can be done with a lot of things in class like stories, pictures, conjugations and more.