by Angela Cardenas
Once you find yourself in Latin America, you'll realize you've forgotten something. No matter your age or the supposed purpose of your journey, there's a good chance it won't be long after the plane lands until you start wishing you had a skill-set you never thought to prepare for: flirting. Yup, don't deny it! Any of you who have been to Latin America in the past already know: Latin America is full of beautiful people. And boy, you sure will wish you knew how to charm them! Well, with today's article, we're going to help you out.
No matter how much you study the dictionary or slang or audiotapes, all of those words are going to blur together once you look into the dreamy brown eyes of the subject of your newfound affections. So here, we're going to cut through the chaff and get right to the heart of it. In the following list, we've given you a few choice phrases that should be easy to remember and quick to charm.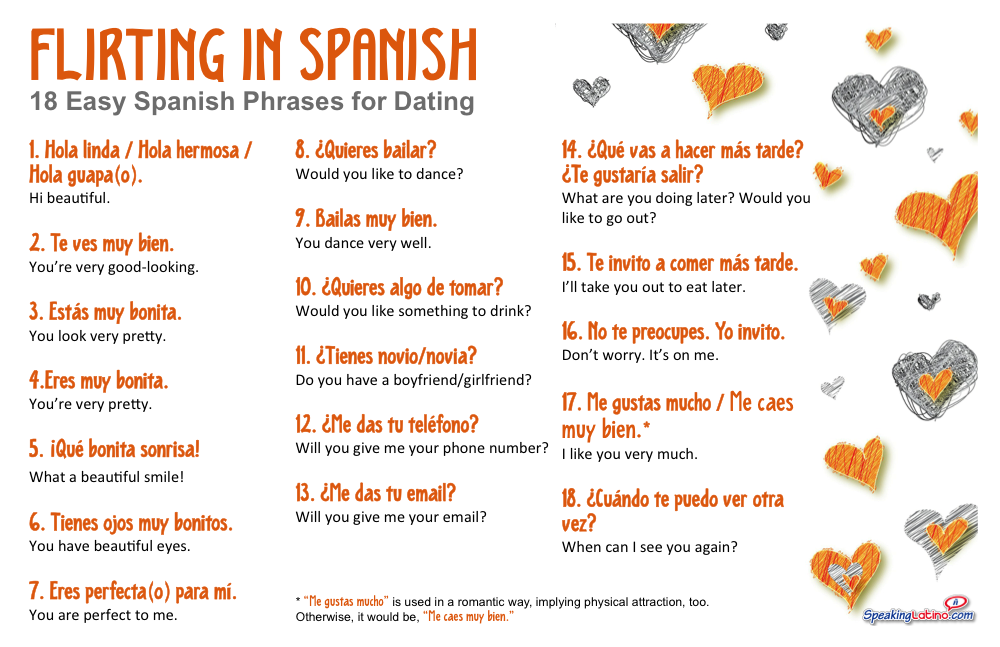 1. Hi beautiful. – Hola linda / Hola hermosa / Hola guapa(o)
2. You're very good-looking. – Te ves muy bien.
3. You look very pretty. – Estás muy bonita.
4. You're very pretty. – Eres muy bonita.
5. What a beautiful smile! – ¡Qué bonita sonrisa!
6. You have beautiful eyes. – Tienes ojos muy bonitos.
7. You are perfect to me. – Eres perfecta(o) para mí.
8. Would you like to dance? – ¿Quieres bailar?
9. You dance very well. – Bailas muy bien.
10. Would you like something to drink? – ¿Quieres algo de tomar?
11. Do you have a boyfriend/girlfriend? – ¿Tienes novio/novia?
12. Will you give me your phone number? – ¿Me das tu teléfono?
13. Will you give me your email? – ¿Me das tu email?
14. What are you doing later? Would you like to go out? – ¿Qué vas a hacer más tarde? ¿Te gustaría salir?
15. I'll take you out to eat later. – Te invito a comer más tarde.
16. Don't worry. It's on me. – No te preocupes. Yo invito.
17. I like you very much. – Me gustas mucho.*
18. When can I see you again? – ¿Cuándo te puedo ver otra vez?
* "Me gustas mucho" is used in a romantic way, implying physical attraction, too. Otherwise, it would be, "Me caes muy bien."
We hope this brief list will be easy to remember. And to go with them, here are just a couple more tips on wooing and romance in Latino culture:
• In Latino culture, it is still widely expected that the man will pay for the woman's drinks or her meal at a restaurant. So, it is usually the man who will offer the woman a drink or ask her out to eat, instead of the other way around.
• Dancing is a very central part of Latino culture. Asking somebody to dance (man or woman) is a great way to start a conversation. In fact, it might not be a bad idea to take a few salsa classes before your trip!
There you have it: a quick, no-nonsense resource for the art of flirting in Latino culture. Now you've got the tools to enjoy all Latin America has to offer.
Good luck!
SpanishAtHome.com
---
Love and Valentine's Day Spanish Class Resources for Teachers
Check out Speaking Latino's ready-made Spanish class printables with activities to practice vocabulary with your students. From crossword puzzles to authentic songs, you will have plenty of options to choose from!
---
This is a guest post written by Angela Cardenas, one of the creators of the series of Spanish learning books Spanish At Home and Bright Spanish live video courses. She has years of experience teaching Spanish to students in Los Angeles and this is another contribution of hers to Speaking Latino.
Check out these other articles about How to Speak Spanish.