1. Lesson Plan Making Comparisons, Superlatives – After School Activities [MEMBERS] – Students learn vocabulary related to after-school activities through real documents (after school activities handout from several schools) and videos. They will learn about adjectives too. Later, they learn the rules to form a comparative and the ones with an irregular comparative grade. With these resources, they will be able to complete a final oral activity.
2. Lesson – Studying Spanish: Exercises Using Comparisons – Explains how to make comparisons in Spanish. The lesson also suggests worksheets to help the students practice.
3. Lesson Plan – Superlatives in Spanish – After students have learned to describe and compare equal or unequal things, they are ready to learn how to say something is the best or worst, the most or least among other things.
4. Lesson – Spanish Comparatives and Spanish Superlatives – This page contains a lesson about all the comparisons in Spanish including mejor/peor que, el/la mejor, más de, más/menos que, and others. The lesson includes audio examples and a practice. You can integrate this information into your lesson plan.
5. Lesson – Comparisons of Equality, Inequality, Superiority, Inferiority – Describe the 7 ways you can do comparisons in Spanish: comparisons of equality, comparisons of inequality, relative superlative, absolute superlative
superiority/ inferiority, irregular comparatives and irregular adjectives. At the end of each lesson, there is a short quiz to practice.
6. Video – Unequal Comparisons: Más/menos que – Students learn how to compare unequal things in Spanish. Use it to introduce or review this topic
7. Video – Spanish Comparatives – A complete video on how to form comparative in Spanish. Video is in English and it is based on Avancemos textbook.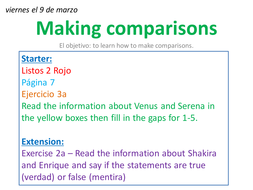 8. Presentation – Spanish Comparisons – Students learn how to make comparisons in Spanish with a couple of whiteboard games. Download includes two worksheets.
9. Presentation – Superlativos y Comparativos – A short PowerPoint presentation about superlatives and comparatives totally in Spanish. The students see examples in English and Spanish of this topic.
10. Worksheet – Spanish Comparative and Superlative – Printable 2-page worksheet to practice comparatives and superlatives.
11. Spanish Song Tengo tu Love by Sie7e – Verb TENER and Comparisons Activities [MEMBERS ONLY] – Spanish class activities with the song Tengo Tu Love by Sie7e. With this Spanish song your students can practice the verb TENER and comparisons. These activities can be used to wrap up the lesson.