1. Lesson Plan – Preterite of -CAR, -GAR, -ZAR Verbs – Shopping for Gifts [MEMBERS] – Students review the vocabulary with an infographic and a series of images. Then, the preterite of -AR, -CAR, -GAR verbs are discussed in class. Finally, students use situation cards to combine the vocabulary and verb tenses. Includes Powerpoint presentation.
2. Lesson – CAR-GAR-ZAR Verbs – Integrate this information into your lesson plan. Students will be able to review the present tense conjugation of these verbs. Also, there is a short quiz with answer key to practice.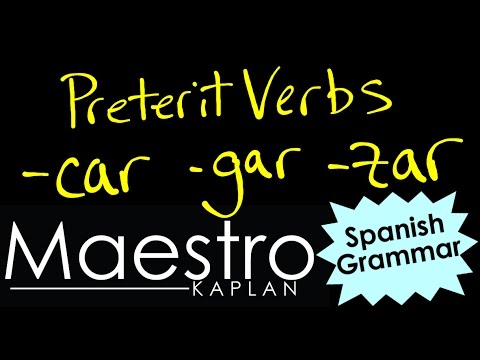 3. Video – Preterit Tense: CAR, GAR, and ZAR verbs in Spanish – This video explains the preterite -CAR, -GAR, -ZAR verbs in less than 3 minutes.
4. Storyboard – CAR, -GAR, -ZAR Verbs – Use this example to show students how to create their own storyboard.
5. Preterite of – car, -gar, -zar Ending Verbs Online Quiz – includes 24 questions. It will test your students' ability to work with zar, car, gar ending verbs in the preterite.
6. Worksheet – Preterite -car, -gar, -zar verbs – A 1-page printable worksheet where students complete sentences with the correct preterite conjugation of the verbs in the infinitive.
7. Presentation – Preterite ir, ser, car, gar, zar verbs – In addition to the car, gar, zar verbs, this presentation also includes the preterite conjugation of ir and ser (fui).
8. Song – Preterite -Car, -Gar, and -Zar Conjugation – This short song will help your students remember the ending changes of the -CAR, -GAR, -ZAR verbs in the preterite.