Drinking straw is another example that illustrates the diversity of the Spanish language. It's amazing how a simple object is identified in different ways in Spanish speaking countries. We've put together this infographic "11 Spanish Language Words for DRINKING STRAW" to help anyone learning Spanish as well as native speakers to understand the vocabulary variations.
If you are learning Spanish, chances are you've learned the words for pajita or pajilla for drinking straw. Now with this collection of variations, you've added new words to your vocabulary!

11 Spanish Language Words for DRINKING STRAW: Infographic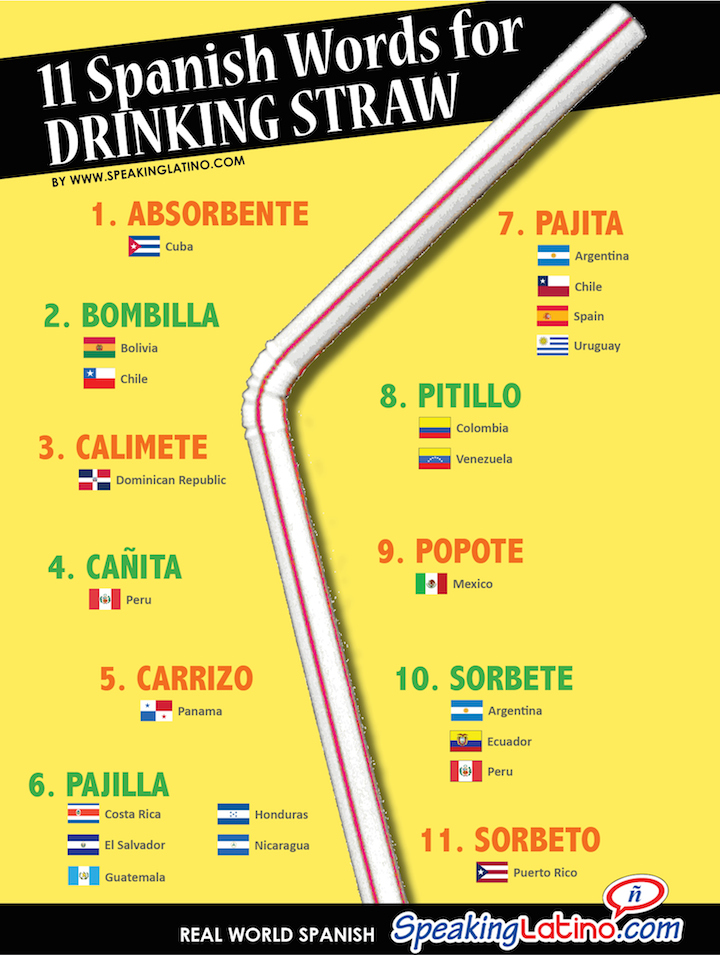 But also, people that speak Spanish as their first language have a lot to learn. If you are visiting another country in Latin America and need a drinking straw, make a note to avoid an embarrassing moment. Such innocent words in one country can have more vulgar meanings in other countries. And here's a true story that could happen to you.
One of my good friends is Colombian and recently told me that when she came to Puerto Rico to study in college about 10 years ago, she got along so well with her new Puerto Rican friends. One night out, she asked for a pitillo for her soda. When everyone opened their astonished eyes and asked "WHAAAAAAAAAAT?!", she realized that something was really wrong. Pitillo is the word used in Colombia for drinking straw, but in Puerto Rico is a marijuana cigarette. The correct word she needed was sorbeto.
So, to avoid language misfortune, here is our list of Spanish words for drinking straw:
1. Absorbente: Cuba
2. Bombilla: Chile and Bolivia
3. Calimete: Dominican Republic
4. Cañita: Peru
5. Carrizo: Panama
6. Pajilla: Costa Rica, El Salvador, Honduras, Nicaragua and Guatemala
7. Pajita: Argentina, Chile, Uruguay, and Spain
8. Pitillo: Colombia and Venezuela
9. Popote: Mexico
10. Sorbete: Argentina, Ecuador
11. Sorbeto: Puerto Rico

Check out these other articles about the Spanish Language.
Summary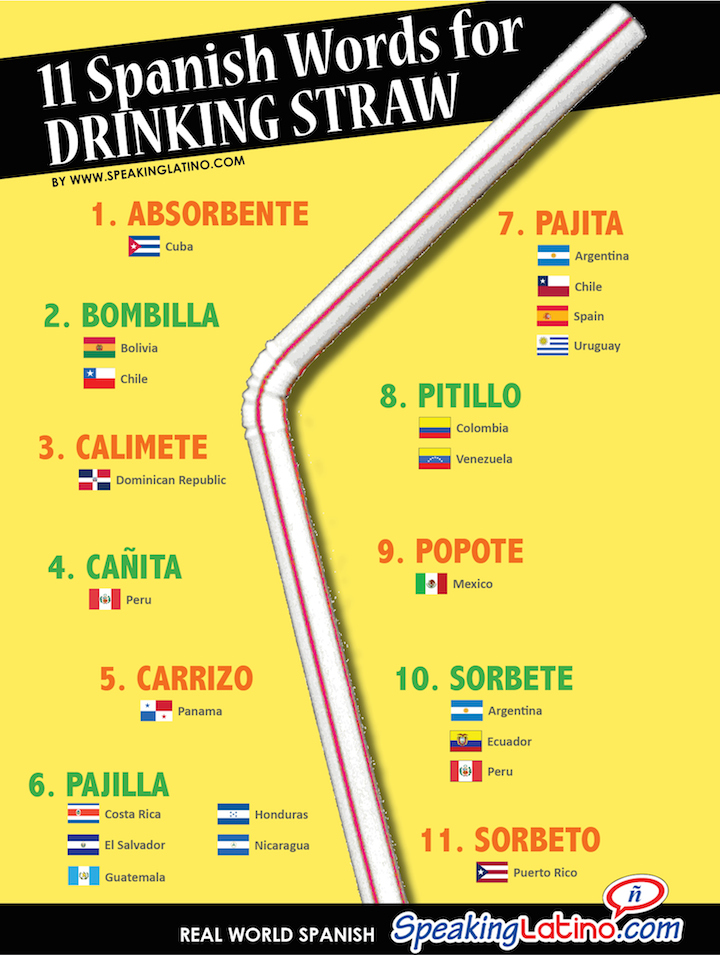 Article Name
11 Spanish words for DRINKING STRAW (plus countries)
Description
A cool and shareable infographic that lists 11 Spanish words for drinking straw and the countries that use them. You will discover where pajita, calimete, bombilla, popote, sorbete, sorbeto and more are used.
Author