1. Lesson Plan – Capitalization and Accents – At the end of the module, students will be able to define, pronounce and correctly spell vocabulary words and apply the rules of capitalization for: days of the week, names of months, the pronoun yo ("I"), proper nouns and proper adjectives, proper names, people's titles and book titles. They will also describe the reasons for using accents in Spanish and properly pronounce words with accents and apply stress to the proper syllable.
2. Video – Fun way to Learn Spanish: Capitalization – Shows some differences between English and Spanish capitalization rules.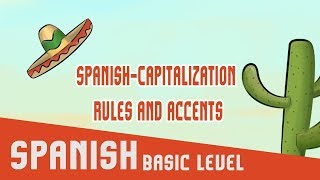 3. Video – Capitalization rules and accents – Students learn eight different capitalization rules in Spanish.
4. Video – Spanish Accent Marks, Punctuation, & Capitalization – A 9-minute video that includes many examples for the rules.
5. Activities – Juegos para aprender el uso de mayúsculas – Four suggested activities or games to practice with students in the classroom.
6. Practice – Ejercicios de ortografía – Signos de puntuación – A serie of short online exercises for students to complete in class or at home.
7. Practice – Ejercicios Básicos de letras Mayúsculas – Students apply the basic rules of capitalization to simple sentences.