1. Video and Worksheets – Sports Vocabulary [MEMBERS] – In this video, students learn 23 vocabulary words about sports. They listen to the story of Felipe from the Dominican Republic and the sports vocabulary words he mentions.
2. Lesson Plan – Likes and Dislikes – Sports and Hobbies [MEMBERS] – At the end of the activity, students will have reviewed and used orally and in writing, the vocabulary about sports and hobbies, likes and dislikes according to the different degrees. Through videos and visual materials, students will review their knowledge of sports, hobbies, likes and dislikes vocabulary and expressions.
3. Video – Sports and Hobbies – This is a simple and short video about sports and hobbies. Students use this to learn how to describe numerous hobbies and sports they like and how to pronounce them in Spanish. They will also be able to use the expression me gusta.
4. Video – Hobbies in Spanish: Pasatiempos y aficiones en Español – This short video shows how to describe activities the students like to do in Spanish. It explains how to compose the sentences to express correctly what kind of things they like to spend their time on. They will study how to use the expressions me gusta and no me gusta to talk about hobbies in Spanish.
5. Practice Presentation – Sports and Hobbies (Deportes y Pasatiempos) [MEMBERS] – In this practice presentation, students have to look at 20 images and choose the correct vocabulary word that represents it on the right side. Students can complete this exercise in groups or in an open class discussion.
6. Glossary – Illustrated Sports Vocabulary – A glossary of 27 sports with English definitions that you and your students can print out to use as a reference and to help them become familiar with the terms to complete the activities. It also includes a printable image featuring 16 sports.
7. Vocabulary List – Los Pasatiempos: Hobbies, Sports, Games – A vocabulary list of 21 words about sports, hobbies and games. It includes an audio clip, the verbs you can use with these words and alternate expressions.
8. Worksheet – Sports and Hobbies- In this activity, students learn the names of sports, hobbies, and the date and time to practice sports. When they know enough about the vocabulary, they create a presentation about the sports and hobbies they like.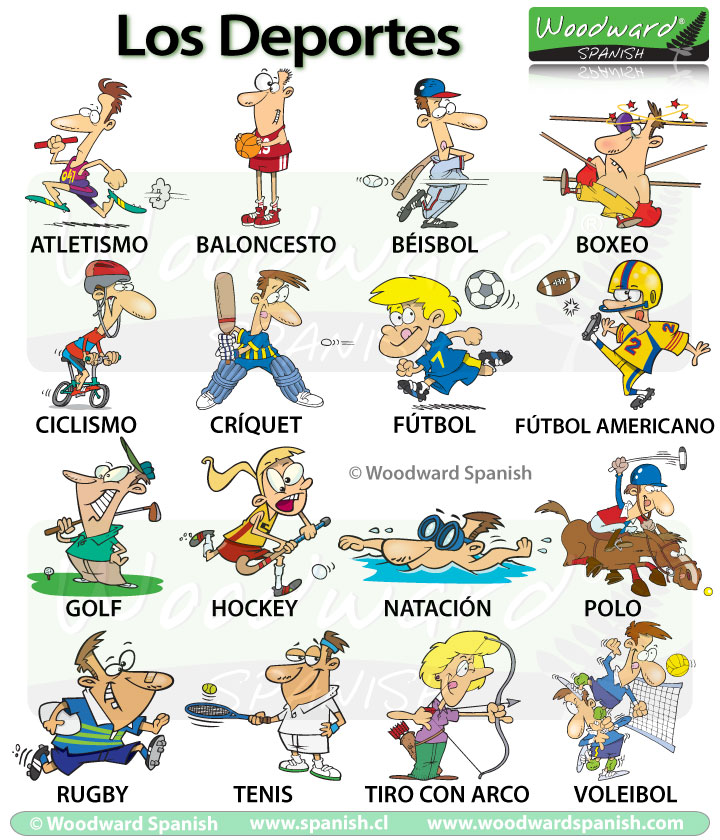 9. Printables – Sports and Hobbies – Includes flashcards, expressions to use with the vocabulary and an activity to guess the sport based on the equipment used.