1. Lesson Plan GUSTAR and similar verbs, Acabar de + Infinitive – Movie Genres  [MEMBERS] – Students learn about movie genres, their characteristics and how to identify them. They learn to use the verb gustar and similar verbs to express their opinion about movies. They also learn to use acabo de + infinitive to talk about something that they have done recently. At the end of this lesson, students will be able to talk about what they have been doing, distinguish from different movie genres, and give an opinion on each one using gustar and similar verbs. Also, they will be able to ask questions and give answers about the plot of films.
2. Lesson "Gustar" Family of Verbs  – This article suggests an alternate way to teach gustar and similar verbs. It presents other verbs to teach at first before gustar and the importance of reviewing the indirect objects in order to use these verbs correctly.

3. Video Verbs that work like GUSTAR – This 7-minute video explains the form of gustar and other similar verbs and how they need to be used with an indirect object pronoun.
4. Video Gustar y verbos similares Show Me – If you need a more extensive lesson, you can use this 14-minute video that explains gustar and similar verbs. It includes a list of additional verbs that work like gustar. The video finishes with a quick oral practice.
5. Presentation Verbs like Gustar – Use this presentation to discuss how to form phrases with gustar and similar verbs. The presentation ends with a class practice.
6. Presentation Gustar and Similar Verbs – Another good presentation you can use in class to present how to form gustar and similar verbs.
7. Handout Gustar and Similar Verbs – This 2-page handout explains how to construct phrases with gustar and similar verbs. It also includes a list of 19 verbs that follows the same construction.
8. Handout Gustar and verbs like gustar – This handout includes the lesson of gustar and encantar. After the discussion in class, students are ready to complete the practice by filling in the blanks with the correct indirect object pronoun and the correct form of gustar, encantar, or interesar.
9. Handout Verb GUSTARThis is a useful handout explaining the verb gustar.
10. Handout Verbs Like GUSTAR in the Past – With this handout students learn about the verb gustar in the past tense. It includes the explanation and a set of exercises.
11. Online Practice Verbs Conjugated like Gustar  – In this practice, a sentence in English and a partial Spanish translation are given and students have to complete them with the correct indirect object pronoun and verbs similar to gustar. They can check a list with the verbs translations for help.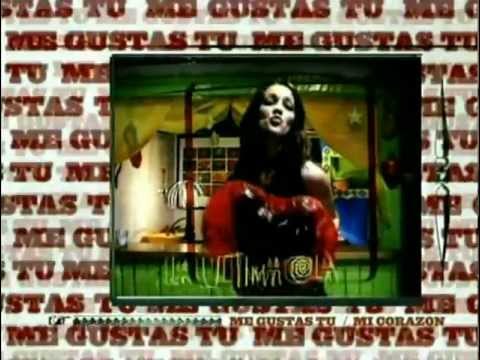 12. Cloze Activity Spanish Song Me gustas tú by Manu Chau [MEMBERS] –This activity includes three cloze versions, full song lyrics, short artist bio, link to Youtube video and answer key.