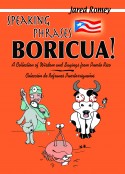 The following is the Speaking Latino list of English sayings in Spanish with their equivalents, specifically the ones popular in Puerto Rico. Many of these sayings, proverbs, refranes, modismos or idioms are also used in other Latin American countries.
You can find this list and much more in my book Speaking Phrases Boricua: A Collection of Wisdom and Sayings from Puerto Rico.
---
Browse English Sayings starting with:
A | B | C | D | E-F | G | H | I | J-K-L | M | N | O-P | R-S | T | U-W | Y
Equivalents of English Sayings in Spanish | Letter Y
You better believe it
-Lo dice y no lo sabe
You can catch more flies with honey than with vinegar
-Amor con amor se paga
You cannot get a quart into a pint pot
-Eso es como pedirle peras al olmo
You cannot get blood from a stone [turnip]
-Eso es como pedirle peras al olmo
You can't judge a book by its cover
-Las apariencias engañan
You can't teach an old dog new tricks
-Moro viejo, mal cristiano
-Perro viejo no aprende trucos nuevos
You do what you can
-Se hace lo que se puede
You don't know what you've got until it's gone
-Nadie sabe lo que tiene hasta que lo pierde
You get what you deserve
-La ley de Dios no tiene trampa
You get what you pay for
-Lo barato sale caro
You make your own destiny
-Las estrellas inclinan, pero no obligan
You owe me one
-Hoy por ti, mañana por mi
You pays your man and you takes your chances
-Para nadar hay que tirarse al agua
You reap what you sow
-El que (bien) siembra, (bien) cosecha
-El que siembra espinas que no espere cosechar flores
-El que siembra vientos [tormentas], cosecha tempestades
You're damned if you do and you're damned if you don't
-Palo si boga y palo si no boga
You're full of it
-No me vengas con ese cuento
You've made your bed, now lie in it
-Ahorcarse con su propia soga
Check out these other Puerto Rican Spanish Slang Expressions articles.