1. Lesson Plan – Present and Past Subjunctive with Doubt – Archeological Terms Los Mayas [MEMBERS ONLY] – Students learn about the archeology vocabulary with an authentic video and infographic of the Mayan Empire. They also use a text to learn about the Present and Past Subjunctive with expressions of doubt and images to create sentences using the vocabulary and the Subjunctive moods learned.
2. Lesson Plan – Present Subjunctive with Expressions of Doubt – Environment and Environment Issues and Solutions [MEMBERS ONLY] – This lesson also starts exploring the environment vocabulary and ends with a section that explains the doubt/possibility expressions with the Subjunctive.
3. Lesson – Expresiones de deseo y de duda. Otros casos de subjuntivo – A complete lesson with practice exercises.
4. Lesson – Subjunctive: Expressing Doubt, Judgement and Emotion – This lesson includes a complete explanation with examples of how to use the Subjunctive to express doubt. The lesson also includes a video and exercises to learn the vocabulary phrases needed to express doubt, a practice and a quiz.
5. Lesson – Expressing Doubt and Denial with the Subjunctive – A short lesson on how to express doubt with the subjunctive. Students complete a simple quiz to practice.
6. Spanish Present Subjunctive with Doubt, Denial & Disbelief – Video – This is a short video about the topic. Students use it to review and practice later.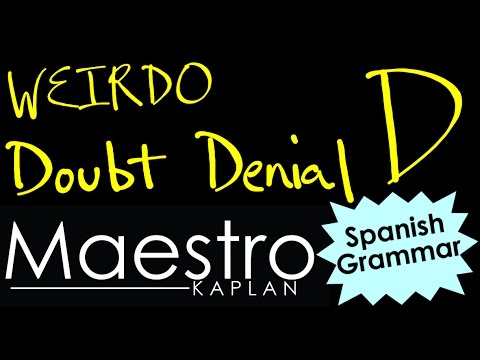 7. Video – Subjunctive with verbs of DOUBT or DENIAL – A 6-minute lesson explaining how to use the subjunctive with verbs of DOUBT or DENIAL. It looks at verbs that trigger the use of the subjunctive: dudo que, no pienso que, no creo que, niego que, no estoy seguro que. It also looks at some false friends.
8. Video – Subjunctive with Doubt, Disbelief and Denial – A 10-minute video lesson shows the sentence structure and the common expressions of doubt, disbelief and denial used in these cases.
9. Presentation – The subjunctive to express doubt and denial – This presentation in English explains how to use the subjunctive mood to express doubt or denial.
10. Presentation – Subjunctive with doubt – This short presentation is great to use as a review. It includes the common expressions that trigger the subjunctive as well as the ones that do not require the subjunctive and instead use the indicative.
11. Presentation – El subjuntivo para expresar duda incredulidad y negación – Explains the structure and the trigger expressions that require the use of the subjunctive.
12. Presentation – Subjuntivo Duda – If students still struggle on when to use the subjunctive or the indicative to express doubt, this presentation clarifies this topic.
13. Activity – Coca-Cola Commercial: Prejudice, Generalizations, People Descriptions, Present Subjunctive [MEMBERS ONLY] – This commercial is about prejudices and how to fight them. Students complete activities to analyze the vocabulary and use the present subjunctive to express doubt or uncertainty to describe people, situations, or objects.