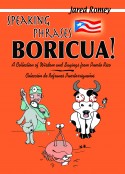 The following is the Speaking Latino list of Puerto Rican sayings in Spanish popular to Puerto Rico. Many of these sayings, proverbs, refranes, modismos or idioms are also used in other Latin American countries.
You can find this list and much more in my book Speaking Phrases Boricua: A Collection of Wisdom and Sayings from Puerto Rico.
---
Browse English Sayings starting with:
A | B | C | D | E-F | G | H | I | J-K-L | M | N | O-P | R-S | T | U-W | Y
Puerto Rican Sayings in Spanish | Letter E
Eat to live, not live to eat
-Se come para vivir, no se vive para comer
Enough is enough
-Para al carajo albañil, que se acabó la mezcla
Everyone makes mistakes
-Al mejor cazador se le va la liebre
Everything eventually comes to light
-A la larga, todo se sabe
Puerto Rican Sayings in Spanish | Letter F

Faith will move mountains
-La fe mueve montañas
Fight against all odds
-Ir contra viento y marea
Fight tooth and nail
-Defenderse más que un gato boca arriba
Fine words butter no parsnips
-El que mucho promete, poco cumple
Flat broke
-Más pelado que un chucho
Friends in high places
-El que tiene padrino se bautiza
« Previous Letter | Next Letter »
Check out these other Puerto Rican Spanish Slang Expressions articles.