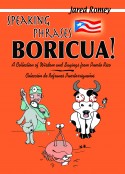 The following is the Speaking Latino list of Puerto Rican sayings in Spanish popular to Puerto Rico. Many of these sayings, proverbs, refranes, modismos or idioms are also used in other Latin American countries.
You can find this list and much more in my book Speaking Phrases Boricua: A Collection of Wisdom and Sayings from Puerto Rico.
---
Browse English Sayings starting with:
A | B | C | D | E-F | G | H | I | J-K-L | M | N | O-P | R-S | T | U-W | Y
Puerto Rican Sayings in Spanish | Letter O
On the tip of the tongue
-Tener algo en la punta de la lengua
One swallow does not a summer make
-Una sola golondrina no hace verano
Opened up a can of worms
-Meterse en camisa de once varas
Out of sight out of mind
-La ausencia causa olvido
-Ojos que no ven, corazón que no siente
Out of touch with reality
-El que vive de ilusiones muere de desengaños
Overstay your welcome
-El muerto, después de tres días, apesta
-El muerto y el agregado a los tres días hieden
Own up to one's mistakes
-A lo hecho pecho
Puerto Rican Sayings in Spanish | Letter P
Pass the buck
-Desde que se inventaron las excusas, nadie quiere ser culpable
Patience is a virtue
-Vísteme despacio que voy de prisa
People who live in glass houses shouldn't throw stones
-No ensucies el agua para después tomártela
-No tire piedras si tiene techo de cristal
Practice makes perfect
-La práctica hace el maestro
-La práctica hace milagros
Practice what you preach
-Bien predica, quien bien vive
Put someone in his place
-Hay que leerle la cartilla
« Previous Letter | Next Letter »
Check out these other Puerto Rican Spanish Slang Expressions articles.