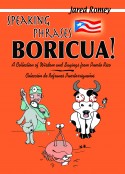 The following is the Speaking Latino list of Puerto Rican Spanish Expressions in English popular to Puerto Rico. Many of these sayings, proverbs, refranes, modismos or idioms are also used in other Latin American countries.
You can find this list and much more in my book Speaking Phrases Boricua: A Collection of Wisdom and Sayings from Puerto Rico.
---
Browse English Sayings starting with:
A | B | C | D | E-F | G | H | I | J-K-L | M | N | O-P | R-S | T | U-W | Y
Puerto Rican Spanish Expressions in English | Letter A
A bird in the hand is worth two in the bush
-Más vale pájaro en mano que cien volando
-Más vale un hoy que dos mañanas
A chain is only as strong as its weakest link
-La soga rompe por lo más delgado
A chip off the old block
-De tal palo, tal astilla
-Quien lo hereda no lo hurta
A friend in need is a friend indeed
-Amigo en la adversidad es un amigo de verdad
A journey of a thousand miles begins with one step
-Barco que no anda no llega a puerto
A lot of hot air
-De ese infierno no salen chispas
A man is known by the company he keeps
-Dime con quien andas y te diré quién eres
A perfect match
-Me viene como anillo al dedo
A prophet is not without honor, save in his own country
-Nadie es profeta en su tierra [pueblo]
A taste of his own medicine
-Estar probando su propia medicina
A tiger doesn't change its stripes
-La yerba mala nunca se muere
According to the latest gossip
-Dicen las malas lenguas, y la mía que no es muy buena también lo repita
Actions speak louder than words
-El movimiento se demuestra andando
-La ley entra por la casa
-No es lo mismo decirlo que hacerlo
After a storm comes a calm
-Después de la tormenta, siempre llega la calma
After marriage, life goes downhill
-En vida de matrimonio, ni soso ni salado
All bark and no bite
-Mucho ruido y pocas nueces
All cats are grey in the dark
-De noche todos los gatos son prietos
All good things must end
-Lo bueno dura poco
All over the place
-Esta como el arroz blanco, en todas las partes
All that glitters is not gold
-No todo lo que brilla es oro
Always lands on his feet
-El que nace para bombero, del cielo le cae el sombrero
-El que nace para toro del cielo le caen los cuernos
Always room for one more
-Donde comen dos, comen tres
An eye for an eye
-Ojo por ojo, diente por diente
An idle mind is the devil's workshop
-El ocio es la madre de todos los vicios
An ounce of prevention is worth a pound of cure
-Es mejor precaver que tener que remediar
-Más vale prevenir que tener que lamentar
Appearances can be deceiving
-Todo lo prieto no es morcilla
As happy as a clam
-Más contento que perro con dos rabos
As old as the hills
-Más viejo que el frío
-Más viejo que Matusalen
As stubborn as a mule
-Es más terco que una mula
As sure as death and taxes
-La muerte es lo único seguro que tenemos en la vida
As ugly as sin
-Es más feo que un caso de drogas
As white as snow
-Más jincho que nalga de monja
-Más jincho que un sobaco de monja
Check out these other Puerto Rican Spanish Slang Expressions articles.