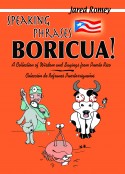 The following is the Speaking Latino list of Puerto Rican Spanish Expressions in English popular to Puerto Rico. Many of these sayings, proverbs, refranes, modismos or idioms are also used in other Latin American countries.
You can find this list and much more in my book Speaking Phrases Boricua: A Collection of Wisdom and Sayings from Puerto Rico.
---
Browse English Sayings starting with:
A | B | C | D | E-F | G | H | I | J-K-L | M | N | O-P | R-S | T | U-W | Y
Puerto Rican Spanish Expressions in English | Letter B
Be happy with what you've got
-Más vale tierra en cuerpo que cuerpo en tierra
Bend over, here it comes again (BOHICA)
-Chúpate esa en lo que te mondan la otra
Better late than never
-Más vale tarde que nunca
Better the devil you know than the devil you don't know
-Es mejor malo conocido que bueno por conocer
Between a rock and a hard place
-Estar entre la espada y la pared
Bitch, bitch, bitch
-Como quiera que te pongas siempre tienes que llorar
Bite off more than you can chew
-Quedarse sin el plato y la comida
-Quedarse sin la soga y sin la cabra
Bites the hand that feeds him
-Cría cuervos y te sacarán los ojos
Black as coal
-Prieto color teléfono
Born with a silver spoon in one's mouth
-Nacer en cuna de oro
Brains over brawn
-A cada guaraguao le llega su pitirre
-Más vale maña que fuerza
Business before pleasure
-El deber antes que el placer
Business is business
-Compay, compay, pero la gallina vale dos reales
Butt-ugly
-Más feo que una patada en la cara
« Previous Letter | Next Letter »
Check out these other Puerto Rican Spanish Slang Expressions articles.