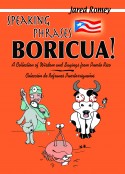 The following is the Speaking Latino list of Puerto Rican Spanish Expressions in English popular to Puerto Rico. Many of these sayings, proverbs, refranes, modismos or idioms are also used in other Latin American countries.
You can find this list and much more in my book Speaking Phrases Boricua: A Collection of Wisdom and Sayings from Puerto Rico.
---
Browse English Sayings starting with:
A | B | C | D | E-F | G | H | I | J-K-L | M | N | O-P | R-S | T | U-W | Y
Puerto Rican Spanish Expressions in English | Letter D
Different strokes for different folks
-Cada cual a lo suyo
-Cada loco con su tema
-Para los gustos, los colores
-Sobre los gustos no hay nada escrito
-Zapatero a sus zapatos
Do not put words in his mouth
-No hables por boca ajena
Do unto others as you would have them do unto you
-No hagas hoy lo que no quieres que te hagan a ti mañana
Does a bear shit in the woods?
-¿A quién le amarga un dulce?
Does not practice what he preaches
-Predicar la moral en calzoncillos
Don't wish too hard, you might just get it
-Está buscando lo que no se le ha perdido
Don't add fuel to the fire
-No eches más leña al fuego
Don't count your chickens before they're hatched
-No cantes victoria antes de tiempo
Don't cross the bridge until you come to it
-No cruces el puente antes de llegar a él
Don't kill the goose that lays the golden egg
-No mates la gallina de los huevos de oro
Don't leave for tomorrow what you can do today
-No dejes para mañana lo que puedas hacer hoy
Don't look a gift horse in the mouth
-A caballo regalado no se le mira el colmillo
Don't stick your nose where it does not belong
-Agua que no has de beber déjala correr
Dressed to the nines
-Estar más combinado que un cuadro del hipodromo
-Genio y figura hasta la sepultura
-Vestirse de 'Clubman'
Drunk as a skunk
-Más ahumado que un trapo de una plancha
Drunk out of his mind
-Más ahumado que un trapo de una plancha
« Previous Letter | Next Letter »
Check out these other Puerto Rican Spanish Slang Expressions articles.