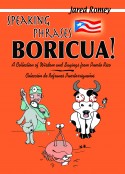 The following is the Speaking Latino list of Puerto Rican Spanish Expressions in English popular to Puerto Rico. Many of these sayings, proverbs, refranes, modismos or idioms are also used in other Latin American countries.
You can find this list and much more in my book Speaking Phrases Boricua: A Collection of Wisdom and Sayings from Puerto Rico.
---
Browse English Sayings starting with:
A | B | C | D | E-F | G | H | I | J-K-L | M | N | O-P | R-S | T | U-W | Y
Puerto Rican Spanish Expressions in English | Letter G
Genius is ten percent inspiration and ninety percent perspiration
-Más hace el que quiere que el que puede
Get it over with quickly
-Camino malo se anda ligero
Get to the point
-Al pan, pan y al vino, vino
Get up on the wrong side of the bed
-Levantarse de la cama con el pie izquierdo
Give a little to get a little
-Hay que dar del ala para comer de la pechuga
Give credit where credit is due
-Honor, a quien honor merece
Give him a taste of his own medicine
-Ladrón que roba a ladrón, merece el perdón
Give someone an inch and he will take a mile
-Se les da una uña y cogen hasta el codo
-Te doy pon y quieres guiar
-Te doy un dedo y me quieres coger el brazo
Go like a bat out of hell
-Ir como alma que lleva el diablo
God giveth and god taketh away
-Dios da y quita
God helps those that help themselves
-Dios dice ayúdate que yo te ayudaré
-Ayúdate que Dios te ayudará
God works in mysterious ways
-Dios sabe lo que hace
God's gift to women
-Creerse la última Coca Cola del desierto
Good luck!
-Dios quiera que tu guarapo siempre tenga hielo
Good things are around the corner
-No hay mal que por bien no venga
Good things come in small packages
-El perfume bueno siempre viene en potes pequeños
-Perfume bueno viene en frasco pequeño
Good things come to those who wait
-A su tiempo maduran las uvas
-Calma piojo que el peine llega
-Lo mejor que hizo Dios fue un día detrás del otro
Guilt by association
-Admisión de delito, relevo de prueba
« Previous Letter | Next Letter »
Check out these other Puerto Rican Spanish Slang Expressions articles.