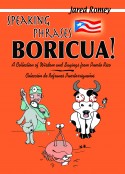 The following is the Speaking Latino list of Spanish idioms translated to English specifically the ones popular in Puerto Rico. Many of these sayings, proverbs, refranes, modismos or idioms are also used in other Latin American countries.
You can find this list and much more in my book Speaking Phrases Boricua: A Collection of Wisdom and Sayings from Puerto Rico.
---
Browse English Sayings starting with:
A | B | C | D | E-F | G | H | I | J-K-L | M | N | O-P | R-S | T | U-W | Y
Spanish Idioms Translated to English | Letter M
Mad as a hatter
-Como un ciempiés meado
Made for each other
-Dios los cría y el Diablo los junta
-Tal para cual
Make a mountain out of a mole hill
-Formar una tormenta en un vaso de agua
-Hacen de un grano de arena una montaña
Make do with what you've got
-A falta de pan, galleta
-Hay que arar con los bueyes que se tenga
Make the best of a bad situation
-Si del cielo te caen limones, aprende a hacer limonada
Make up your mind
-O te peinas o te haces rolos
Man proposes, God disposes
-Uno propone y Dios dispone
Meet your match
-Encontrarse con la horma de su zapato
Might as well get it over with
-Para lo que falta que venga el resto
Mix apples and oranges
-Le dieron gato por liebre
-No es lo mismo ni se escribe igual
Moderation in all things
-Todo en exceso hace daño
Money can't buy you love
-El amor no se compra con dinero
« Previous Letter | Next Letter »
Check out these other Puerto Rican Spanish Slang Expressions articles.