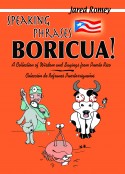 The following is the Speaking Latino list of Spanish idioms translated to English specifically the ones popular in Puerto Rico. Many of these sayings, proverbs, refranes, modismos or idioms are also used in other Latin American countries.
You can find this list and much more in my book Speaking Phrases Boricua: A Collection of Wisdom and Sayings from Puerto Rico.
---
Browse English Sayings starting with:
A | B | C | D | E-F | G | H | I | J-K-L | M | N | O-P | R-S | T | U-W | Y
Spanish Idioms Translated to English | Letter N
Necessity is the mother of invention
-La necesidad es la madre de la invención
Never ask pardon before you are accused
-Te estás curando en salud
Never say never
-Nunca digas "de esa agua no beberé"
New broom sweeps clean
-Escoba nueva barre bien
No big deal
-Olvídate, más se perdió en la guerra
No one can take it away from you
-No te lo despinta nadie
No pain, no gain
-El que quiere azul celeste, que le cueste
-Para nadar hay que tirarse al agua
-Quien no se arriesga no lo logra
Not as easy as it looks
-La luna no es de queso ni se come con melao
Not be a fan of
-Ese no es santo de mi devoción
Not in a million years
-Esto será cuando la rana eche pelo
Nothing in life is free
-Nadie da nada a cambio de nada
Nothing lasts forever
-La agonía es larga pero la muerte es segura
Nothing to write home about
-No es nada del otro mundo
Nothing will come of it
-De ese infierno no salen chispas
Nothing's for free
-No hay rosas sin espinas
« Previous Letter | Next Letter »
Check out these other Puerto Rican Spanish Slang Expressions articles.