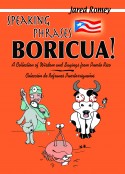 The following is the Speaking Latino list of Spanish idioms translated to English specifically the ones popular in Puerto Rico. Many of these sayings, proverbs, refranes, modismos or idioms are also used in other Latin American countries often with slight adjustments.
You can find this list and much more in my book Speaking Phrases Boricua: A Collection of Wisdom and Sayings from Puerto Rico.
---
Browse English Sayings starting with:
A | B | C | D | E-F | G | H | I | J-K-L | M | N | O-P | R-S | T | U-W | Y
Spanish Idioms Translated to English | Letter T
Take his word for it
-Hay que darle el beneficio de la duda
Take the good with the bad
-El que se come la carne que se coma también el hueso
-Vayan las verdes por las maduras
Take the horse by the reigns
-Coger el sartén por el mango
Take with a grain of salt
-Las cosas se toman según de quien vengan
Test the waters
-Hay que estirar los pies hasta donde llegue la sábana
That's a whole different story
-Eso es harina de otro costal
-Eso son otros veinte pesos
That's all she wrote
-Para al carajo albañil, que se acabó la mezcla
The apple doesn't fall far from the tree
-De tal padre, tal hijo
The bee's knees
-Creerse la última Coca Cola del desierto
The best of both worlds
-Es como el perro del hortelano, que ni come ni deja comer
The best thing since sliced bread
-Creerse la última Coca cola del desierto
The blind leading the blind
-Es como un ciego guiando a otro ciego
The early bird catches the worm
-Al que madruga, Dios lo ayuda
The fox guarding the chicken coop
-Poner el cabro a velar las lechugas
The grass is greener on the other side
-La luz de adelante es la que alumbra
The Lord works in mysterious ways
-Dios aprieta pero no ahoga
The more the merrier
-Donde comen dos, comen tres
The person is a bad apple
-Cuando no está preso lo andan buscando
The pot calling the kettle black
-Un conejo [burro] hablando del tamaño de las orejas
-Un muerto hablando de un ahorcado
The quickest way to a man's heart is through his stomach
-El amor entra por la cocina
The road to hell is paved with good intentions
-El infierno está lleno de buenas intenciones
The rotten apple spoils the barrel
-Una manzana podrida daña el barril
The straw that broke the camel's back
-La gota que colmó la copa
The war's not over yet
-Una batalla no gana una guerra
There is a remedy for everything except death
-En la vida todo tiene remedio, menos la muerte
There is an exception to every rule
-No hay regla sin excepción
There's a sucker born every minute
-Todo los días se tira un bobo a la calle
There's no accounting for tastes
-Hay gustos que merecen palos
-Sobre los gustos no hay nada escrito
There's no place like home
-Seguro es el pájaro en el nido
There's none so deaf as those who will not hear
-No hay peor ciego que el que no quiere ver
Thin as a rail
-Lo que te queda es el solar y no es tuyo
Things are getting ugly
-Esto ya pasa de castaño oscuro
Things are taking a turn for the worse
-Esto ya pasa de castaño oscuro
Three's a charm
-La tercera es la vencida
Timbuktu
-Anduvo la Ceca y la Meca
Time heals all wounds
-El tiempo lo cura todo
Time is money
-El tiempo es oro
To all be in the same boat
-Somos muchos los hijos del muerto
To be in a jam
-Estar con la soga al cuello
To be in the same boat
-Mal de muchos consuelo de tontos
To be scared out of your mind
-Quedarse con los pelos de punta
To be worked to death
-Ha corrido hasta sin aceite
To each his own
-Cada cual a lo suyo
-Cada gallina a su gallinero
-Cada loco con su tema
-Cada oveja con su pareja
-Hay de todo en la viña del Señor
-Para los gustos, los colores
-Sobre los gustos no hay nada escrito
-Zapatero a sus zapatos
To feel like a million bucks
-Sentirse como un billete de cien pesos
To get what's coming to you
-Alábate pollo que mañana te guisan
To give away the house
-El que da lo que tiene a pedir se atiene
To grab the bull by the horns
-Coger al toro por los cuernos
To have ants in your pants
-Tener hormiguillas en el culo
To have one's hair stand on end
-Quedarse con los pelos de punta
To have pie on his face
-Volvió con el rabo entre medio de las patas
To look out for Number One
-Cada cual se reparte con la cuchara grande
To make a long story short
-Para hacerte el cuento corto
To make a mountain out of a molehill
-Ahogarse en un vaso de agua
To make something good from nothing
-Hay que hacer de tripas corazones
To mix like oil and water
-Ser como el aceite y el vinagre
To not defend oneself
-No da un tajo ni en defensa propia
To not have anything to hide
-El que no tiene hechas no tiene sospechas
To reach one's limit
-El que nace para chavito prieto nunca llega a vellón
To roll right off of
-Se le pasea el alma por el cuerpo
To screw up
-Meter la pata
To slide off of
-Se le pasea el alma por el cuerpo
To sound like a broken record
-Eso es como llover sobre mojado
To think he's the bomb
-Creerse la última Coca Cola del desierto
To wipe out
-Caerse como una guanábana
Tomorrow is another day
-Mañana será otro día
Too many chiefs and not enough indians
-Muchos caciques y pocos indios
Too many cooks spoil the broth
-Muchos cocineros dañan la comida
Too much of a good thing
-Todo en exceso hace daño
-Lo poquito agrada, lo mucho enfada
Two heads are better than one
-Cuatro ojos ven más que dos
-Dos cabezas piensan mejor que una
Two wrongs don't make a right.
-Dos males no hacen un bien
« Previous Letter | Next Letter »
Check out these other Puerto Rican Spanish Slang Expressions articles.