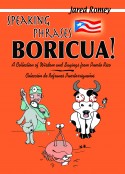 The following is the Speaking Latino list of Spanish sayings in English specifically the ones popular in Puerto Rico. Many of these sayings, proverbs, refranes, modismos or idioms are also used in other Latin American countries.
You can find this list and much more in my book Speaking Phrases Boricua: A Collection of Wisdom and Sayings from Puerto Rico.
---
Browse English Sayings starting with:
A | B | C | D | E-F | G | H | I | J-K-L | M | N | O-P | R-S | T | U-W | Y
Spanish Sayings in English | Letter J
Just what I needed
-Me viene como anillo al dedo
Spanish Sayings in English | Letter K
Keep his word
-Lo prometido es deuda
Keep on top of things
-No te duermas en las pajas
Keep your shop and your shop will keep you
-El que tiene tienda que la atienda, o si no que la venda
Kill two birds with one stone
-Matar dos pájaros de un tiro
Spanish Sayings in English | Letter L

Lead by example
-La ley entra por la casa
Leave the best for last
-El mejor plato se deja para lo último
Left at the altar
-Se quedó vestida y "alboratá"
Left out to dry
-Se quedó vestida y "alboratá"
Let bygones be bygones
-Borrón y cuenta nueva
Like a cat with nine lives
-Tener más vidas que un gato
Like father, like son
-De tal padre, tal hijo
-De tal palo, tal astilla
-Hijo de gato, caza ratón
Like two peas in a pod
-Tal para cual
Look with your eyes not your hands
-Tocan con los ojos y miran con las manos
Looking for a needle in a haystack
-Es como buscar una aguja en un pajar
Love is blind
-El amor lo perdona todo
« Previous Letter | Next Letter »
Check out these other Puerto Rican Spanish Slang Expressions articles.