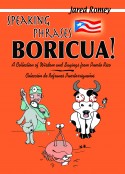 The following is the Speaking Latino list of Spanish sayings in English specifically popular in Puerto Rico. Many of these sayings, proverbs, refranes, modismos or idioms are also used in other Latin American countries.
You can find this list and much more in my book Speaking Phrases Boricua: A Collection of Wisdom and Sayings from Puerto Rico.
---
Browse English Sayings starting with:
A | B | C | D | E-F | G | H | I | J-K-L | M | N | O-P | R-S | T | U-W | Y
Spanish Sayings in English | Letter U
United we stand, divided we fall
-En la unión está la fuerza
Spanish Sayings in English | Letter W

Walls have ears
-Las paredes tienen oídos y los montes ojos
Water under the bridge
-Agua pasada no mueve molino
Well begun is half done
-Quien bien empieza bien acaba
What comes around goes around
-Estar probando su propia medicina
-Hijo eres, padre serás, según lo hiciste, así lo verás
-Ladrón que roba a ladrón, merece el perdón
What goes up must come down
-Todo lo que sube tiene que bajar
What the eye doesn't see, the heart doesn't grieve over
-Ojos que no ven, corazón que no siente
When in Rome, do as the Romans
-A la tierra que fueres haz lo que vieres
-¿Dónde va Vicente? Donde va la gente
When it rains, it pours
-Al perro flaco, todas las pulgas le caen
-Cuando uno está de malas, hasta la mujer se la pega!
-Del árbol caído todos hacen leña
When one door closes, another one opens
-Cuando una puerta se cierra, cientas se abren
When pigs fly
-Esto será cuando la rana eche pelo
When poverty comes in at the door, love flies out of the window
-Cuando la pobreza entra por la puerta, el amor sale por la ventana
Where there's smoke, there's fire
-Cuando el río suena, agua lleva
-Cuando el río suena es porque algo trae
-Si el rio suena es porque agua trae
While there's life, there's hope
-Mientras haya vida hay esperanza
Wipe the slate clean
-Aquí paz y en el cielo gloria
-Borrón y cuenta nueva
With friends like that who needs enemies?
-Con amigos así no hacen falta enemigos
With his tail between his legs
-Volvió con el rabo entre medio de las patas
Won't harm a fly
-No mata ni una mosca
Worth its weight in gold
-Vale más de lo que pesa en oro
« Previous Letter | Next Letter »
Check out these other Puerto Rican Spanish Slang Expressions articles.