1. Lesson Plan – Weather Vocabulary and Weather Expressions [MEMBERS] – Students learn the weather vocabulary and basic expressions with a video. Then, they practice what they have learned in class with an interactive online game and a written exercise. Finally, they do a presentation about the weather in front of the class.
2. Lesson Plans – Weather Unit – A complete set of lesson plans about the weather created for elementary students.
3. Lesson Plan – The Weather – Full of activities and games to teach the weather to beginner students.
4. Infographic – Vocabulario del clima y tiempo atmosférico – Students learn the vocabulary with an infographic and complete different online exercises and games.
5. Lesson – Spanish Weather Expressions – Basic expressions that will help students speak about weather in Spanish. Students will be able to build phrases about weather and hold a conversation. Integrate this information into your lesson.
6. Vocabulary list – Weather in Spanish – A list of 33 basic words and phrases related to weather. You can print it and use it as a handout for the students.
7. Vocabulary Words for Weather in Spanish – A list of common words and phrases that are likely to come up in a conversation about the weather. It is organized in different sections such as: nouns, adjectives, verbs, and phrases. It also includes a video.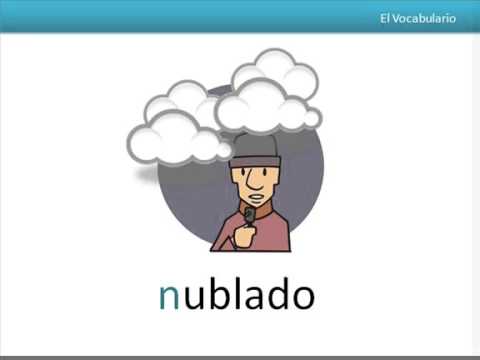 8. Video – Weather Expressions – Students see and listen to the vocabulary along with the verbs hacer, estar and, hay to talk about the weather.
9. Video – Spanish Weather Vocabulary – This video presents the vocabulary using pictures, text and audio to help students associate them to the weather vocabulary. At the end of the video they have a short section of practice.
10. Vocabulary – Spanish Weather Forecast Quizlet – Vocabulary to help create a Spanish Weather Forecast in your Spanish Class.
11. Presentation and Worksheet – Spanish Weather – El Tiempo – A Spanish presentation describing the weather. Includes worksheets to practice vocabulary and a vocabulary grid to enable pupils to work quicker copying down vocabulary.
12. Vocabulary Activity – Weather and Seasons – After presenting the weather/seasons vocabulary in Spanish, students mark these new terms on their comprehension sheet, create a Tree Map categorizing weather into four season categories, illustrate each weather condition/season next to the word or phrase and form sentences.
13. Online Activities – Weather – A list of 19 online activities to practice the weather vocabulary in Spanish.